Engineered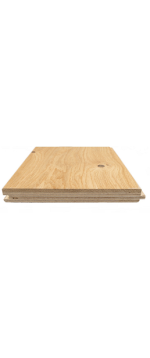 Each board is constructed from multiple
layers of wood pressed together. The top
solid wood layer is available in a wide
variety of species, finishes and thicknesses
to accommodate all tastes and requirements.
It is supported by a central core and backing
board to give the floor increased stability.


Thus the development of a floor that is multi-layered in construction and provides:
Greater stability.
The very best use of a natural resource in the least wasteful and the most practical way.
A product that in some cases can be laid and re-laid many times making it both economical and re-usable.
A product that can be used safely in conjunction with underfloor heating subject to certain conditions.
A product that can be laid much faster resulting in lower fitting costs, and, if pre-finished, can be used immediately after installation.
A greater range of design possibilities offering single plank, two strip and three strip options.
*Expansion and contraction of the softwood core due to seasonal changes in humidity may produce a squeaking sound if the subfloor is not perfectly flat. Waxing of the joints can eliminate this
Showing 24 - 36 of 32 results