SmartPly OSB3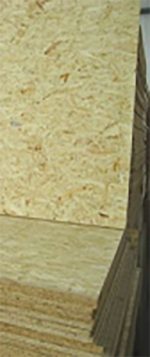 SmartPly OSB3 is a highly engineered, moisture resistant load-bearing panel designed for use inhumid conditions and is therefore ideal for many structural and non-structural applications in bothinternal and protected external environments. Manufactured in accordance with EN 300performance standard, it is the perfect choice for roofing, flooring, wall sheathing, site hoardingand many other applications where strength and moisture resistance are paramount.
Specifications

SmartPly OSB3 is a strong, versatile board suitable for structural use in humid conditions, ideal for applications as diverse as roofing, flooring, hoarding and wall sheathing etc.
Zero-added formaldehyde
In keeping with current construction methods of working towards healthier homes, All SmartPly OSB3 products have been manufactured using zero added formaldehyde.
Conditioned to perform in humid environments, SmartPly OSB3 is the fully certified alternative to softwood plywood.
Roofing Structural Building board

SmartPly Roof is a highly engineered and moisture resistant OSB3 panel specifically designed for the most demanding roofing applications including: pitched roof (cold & warm), sarking/bracing, flat roofs (cold deck, warm deck sandwich, warm deck sandwich, warm deck inverted), roof cassettes and dormer windows, Panels are available in various sizes with square edge (SE).
Fixing
All panels must be fastened firmly to the supporting timber with flat head annular ringed shank nails or countersunk head traditional wood screws (in pre-drilled holes), 3.0 - 3.35mm in diameter (3.0mm diameter is preferable for 38mm thick joists to reduce possibility of splitting)
Specification & Design
In order to avoid condensation on the underside of sarking panels, ventilation must be provided in addition to a correctly placed vapourcontrol layer in accordance with established design guidance. Where sarking panels are used over a roofspace with insulation on a horizontal ceiling.
Transportation, Storage & Handling
Careful Transportation, storage and handling are important to maintain panels in their correct condition for use. Precautions must be taken during storage, prior to delivery and on site to minimise changes in moisture content of the OSB panels due to weather.
Square Edge
| | |
| --- | --- |
| 2440x1220 | 11mm |
| 2440x1220 | 18mm |
* Tongue & grooved panels may also be available on request.
There are no products in this section