Encore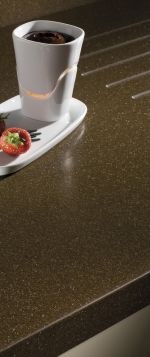 Run your fingers along the silky smooth surface and you appreciate the seamless beauty that only solid surfacing can achieve. This is the feeling of sheer luxury. Cool, sophisticated and uncompromisingly elegant in any kitchen setting.
The latest encore collection features 3 new metallic designs; radius and 'slab end planning solutions and under mount sinks with integrated drainers.
Encore is not a DIY product and should always be fitted by an experienced installer. Not all solid surface products are the same and so to guarantee a professional finish, we recommend that the installer has attended a encore training course.
Showing 1 - 12 of 14 results